Kaitrin Mathew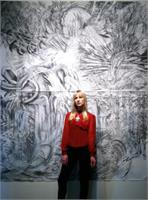 Mrs. Kaitrin teaches Studio art classes and is our portfolio consultant.
Kaitrin Mathew is a Los Angeles and Orange County based artist. She received her BFA from California Institute of the Arts, her Masters in Art Education from University of the Arts, and is currently an MFA candidate in Drawing and Painting at California State University, Fullerton. She has taught studio art in a variety of settings including art museums, universities, schools, and art organizations. Kaitrin's drawings, paintings, and prints explore the landscape from several vantage points including the relationships between speed and stillness, time, ephemera, phenomena and perception.
Kaitrin Mathew is currently not instructing any classes.