JMAP Event
At the end of September we had our JMAP Introduction Meeting & Open House. Teachers presented to new and prospective students about the JMAP program, highlighting the ways this program differs from traditional ones, including field trips, visits from artist guest speakers, and the development of a digital portfolio alongside student's physical art practice. Our gallery proudly displayed students' accomplishments from over the last year. Individual students were able to present their works to the audience, summarizing their experience, visually, in their ten artworks completed over the previous year.
Halloween Art Gallery
On October 25 we had an awesome Halloween event with the release of a special Halloween coloring book. Twenty-nine kids submitted material for the coloring book, and two of them won for the designs on the front and back. We made mini-animations, had fun Halloween games, and made bat baskets to collect candy. Our founder, Jianmin Zhao, came and decided it was so much fun, we're going to make it a tradition!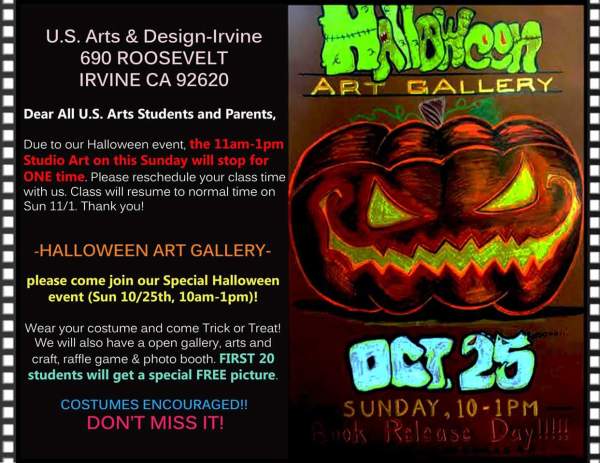 Special thanks to Andrea Ueda for coordinating and organizing the coloring book. Also to Ramiro Rubio and Christina Lee (and her friends!) who helped decorate with spider webs and other spooky-but-fun details.